The past five years have witnessed the rise of smartphones as the most commonly used networking device in our daily lives, followed by tablets. Innovations in next-generation devices will lead the Internet beyond those rectangular handheld devices.
The Internet of Things (or loT) represents a type of device that, according to McKinsey's definition, "can monitor the surrounding environment, report its status, accept commands or tasks, and even act on the information received."
Unlike smartphones and tablets, IoT devices have a limited user interface and are often used only to collect data and transfer it to other devices. The concept is the universality of IoT devices, and it brings more features, higher efficiency and makes everyday life easier. The Internet of Things turns ordinary objects, tools, and facilities into smart devices with sensors that communicate with the PCs, smartphones, and tablets we use every day.
Once the Internet of Things is realized, it is easy to think of various categories of consumer and commercial uses, including home automation, intelligent thermostat and air conditioning, traffic management, advanced care, security systems, car networking, and networking billboards.
What kind of equipment will be used to manage the Internet of Things? There will be some dispersion in the user interface. For example, refrigerators and thermostats may have touch screens, while smartphones and tablets are likely to be the actual remote controls for the Internet of Things for devices and viewing data.
Current and future IoT scale
This trend of the Internet of Things will drive the rapid growth of the number of connected devices. In fact, IoT devices will soon become the largest category of connected devices, and by 2018 it will roughly equal the sum of smartphones, smart TVs, tablets, wearables and PCs.
Global Internet Equipment Installation Forecast:
According to BII's forecast, there will be 1.9 billion IoT devices by the end of the year, and will grow to 9 billion by 2018. Cisco expects the next 10 years of the Internet of Things to create $14 trillion in value, not revenue data, but the overall benefits of the growth of the Internet of Things.
Machina defines "revenue from the connected life market" as the revenue of sales and related products for all connected devices and services, and they estimate that this market will grow to $2.5 trillion by 2020.
According to Markets and Markets, the market value of the Internet of Things reached $44 billion in 2011 and is expected to grow to $290 billion by 2017.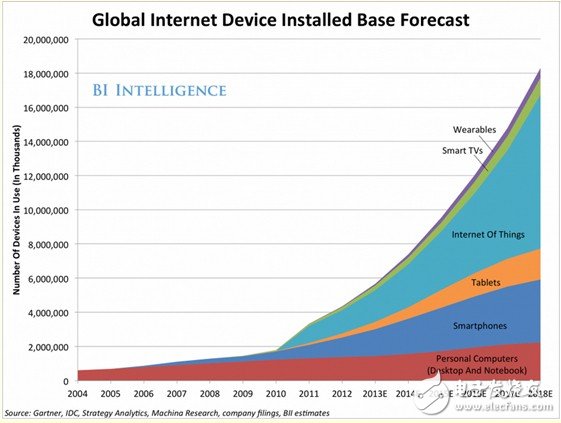 IoT devices and application examples
In the consumer sector alone, there are already many product categories that have entered the Internet of Things. include:
Digital video cameras, home audio and other consumer electronics products;
Household appliances such as refrigerators, washing machines, and coffee machines;
Lighting products such as bulbs and thermostats;
Safety products such as baby monitors and smoke detectors;
Musical instrument
robot;
Electric toy
Pedometer, sphygmomanometer and other products.
In the business and government sectors, the Internet of Things has also begun to spread rapidly. These scenarios are not necessarily directly related to mobile computing, but many are partially integrated with mobile devices and applications:
Networked advertising and marketing;
Intelligent traffic management system;
Waste management system;
Smart grid
Intelligent water system.
Related market
The Internet of Things contains several rapidly growing categories of connected devices, but according to BI estimates, the three areas of car networking, smart TV and wearables will be separated for discussion.
In addition, the Internet of Things overlaps with many other technologies, including telemetry, telematics (telemaTIcs), machine interaction, smart grids and intelligent transportation.
Most companies have a positive attitude towards the Internet of Things:
Just as smartphones learn the lessons of the PC in terms of user interface and functionality, the next generation of IoT devices will learn the lessons of smartphones in connection standards and applications.

Xinxiang Mina Import & Export Co., Ltd. , https://www.mina-motor.cn